TinyClock
TinyClock is a tiny true 5-arch universal Mac OS X single-binary GUI application.
Features
Single universal binary, that can be natively executed on every hardware platform Mac OS X was made for (32/64 bit, PowerPC/x86/AppleSilicon).
Minimalistic gadget-style design. If launched as a tool, there is no menubar, no dock icon, no nothing, just the clock window.
Support for hidpi and dark mode for environments, that have them.
Window title bar for moving the window with a mouse, and a handle to resize it (latter for OS versions, that have it).
Ported to GNUStep and thus other OSes (sources under GPLv3, GNUStep GNUmakefile included).
Simple Makefile build system.
Launches faster, than Safari.
Nuff said.
Screenshots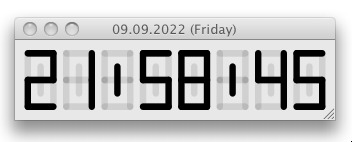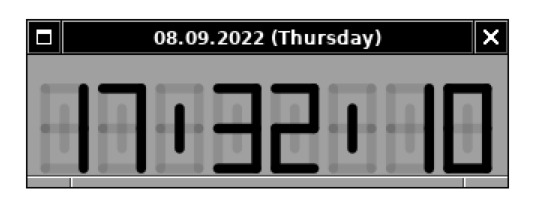 Downloads
DMG Binary
Bazaar Source
To obtain the full source tree do:
bzr clone https://tycho.sytes.net/TinyClock/
To update earlier cloned:
bzr pull
Binary compatibility list
| Archtecture | Mac OS X version |
| --- | --- |
| PowerPC 32-bit | 10.2+ |
| PowerPC 64-bit | 10.5+ |
| Intel 32-bit | 10.4+ |
| Intel 64-bit | 10.5+ |
| Apple Silicon 64-bit | 11.3+ |
Version history
2022-09-11 - Better hidpi support implementation
2022-09-11 - Scripts for a more automated build on dedicated hosts
2022-09-09 - Binaries rebuilt with Leopard SDKs
2022-09-08 - GNUStep port
2022-09-08 - implemented a tiny menubar for bundle mode launch, to make app quitable by Command-Q
2022-09-07 - initial commit
Feedback
Known bugs
Interestingly enough, it is not that easy to forge a menu item in the TinyClock autogenerated menu. When launched on Jaguar, the autogenerated menu is already populated enough. But for latter OS versions it is empty.
Some of the slices are built blindly - crosscompiled without a possibility to launch and thus not tested at all.